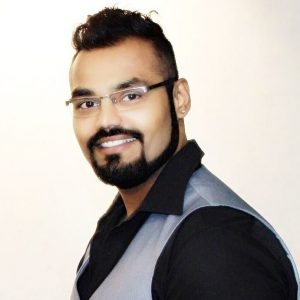 Rudra Rajput, Founder & Director, Fitness Cravers Academy is impulsively committed to bring revolution in the fitness industry with his immense knowledge in this field and guiding people in reaching career and fitness goals.
Mr. Rajput is an Internationally Certified Personal Trainer (NASM-CPT). He also gained specialized Certification in Master Trainer from Australian Institute of Fitness, Master Trainer from Sports Sector Skill Council (SSC) and Master Trainer from MEPSC (Management & Entrepreneurship and Professional Skills Council (MEPSC) 
Because of Mr. Rajput's zeal in exploring the fitness industry, he accomplished Health Club Management from ASFA (American Sports and Fitness Association) and Level 8 Certification of Fitness Excellence in Invictus Survival Sciences.
Rudra Rajput is a specialist in Commando training from Invictus Survival Sciences and in Civil Defence- Krav Maga. Nevertheless, being familiar with Samurai Sword (i.e. Katana) and Nunchaku fighting techniques, he was appointed as Combat Instructor for women's self-defense in Haryana Police where he delivered professional knowledge of defense against knife, gun, hostage situation and street gangsters.
Parallel to his above achievements, Rudra Rajput has proved himself a successful Sports Nutritionist. He also received State and National gold medal in Boxing, State and National silver medal in Wushu and National silver medal in Taekwondo.
It is certainly important to mention that he is a TOT/TOA Master Domain Trainer Nominated by the Sports Sector Skill Council in the year 2020 till date. Last but not the least, Mr. Rajput also possesses Certification in Master Training by Fitness Cravers Academy.