DPT - DIPLOMA IN PERSONAL TRAINING
Diploma in Personal Training
Overview of DIPLOMA IN PERSONAL TRAINING
If You Apply for DPT – DIPLOMA IN PERSONAL TRAINING, You will be designated as senior personal trainer. Once you are DPT certified, You gain in depth knowledge of prescribing special exercises to the client along with the skills of assistance given to them.
In addition, you will study various parts of Anatomy (bones and muscles), Physiology, Biomechanics, Energy systems and Nutrition to be applied to specific gender or client depending upon the outcome of the Assessment you would get and the goals a client is looking for.
Benefits Of DIPLOMA IN PERSONAL TRAINING (DPT)
When it comes to pursuing a career in personal training, it's essential to have the necessary qualifications and expertise to set yourself apart in this competitive industry. That's why our DPT – Diploma in Personal Training – is an excellent option for individuals who want to specialize in personal training and advance their career options.
Our DPT program provides a wealth of benefits, including building a strong foundation in personal training knowledge and skills. This includes theoretical and practical coursework in topics like anatomy, physiology, fitness assessments, program design, and more. Additionally, our program ensures that students have ample opportunities to apply their new knowledge through hands-on training and real-world experiences.
Furthermore, our DPT students receive personalized guidance and support from experienced instructors who are passionate about helping students succeed. As a result, our students are well-equipped to enter the workforce with the essential skills and confident attitude needed to excel in the personal training industry.
A Master Trainer keeps a thorough knowledge of Kinesiology to be applied in various compound & Isolation Exercises which has to be provided to the client for a specific goal to be achieved in an ethical manner. You will also inculcate various CrossFit exercises such as snatch, clean & jerk etc.
Remember, If a trainer is not educated in his/her field, the condition of the client might worsen as each and every exercise has a specific technique, reason and variation which has to be prescribed to the client depending upon the assessment done.
Enroll in Sports Nutrition Certification Course along with DPT – DIPLOMA IN PERSONAL TRAINING
. To Know Discounted Price, Click Here To Chat on Whatsapp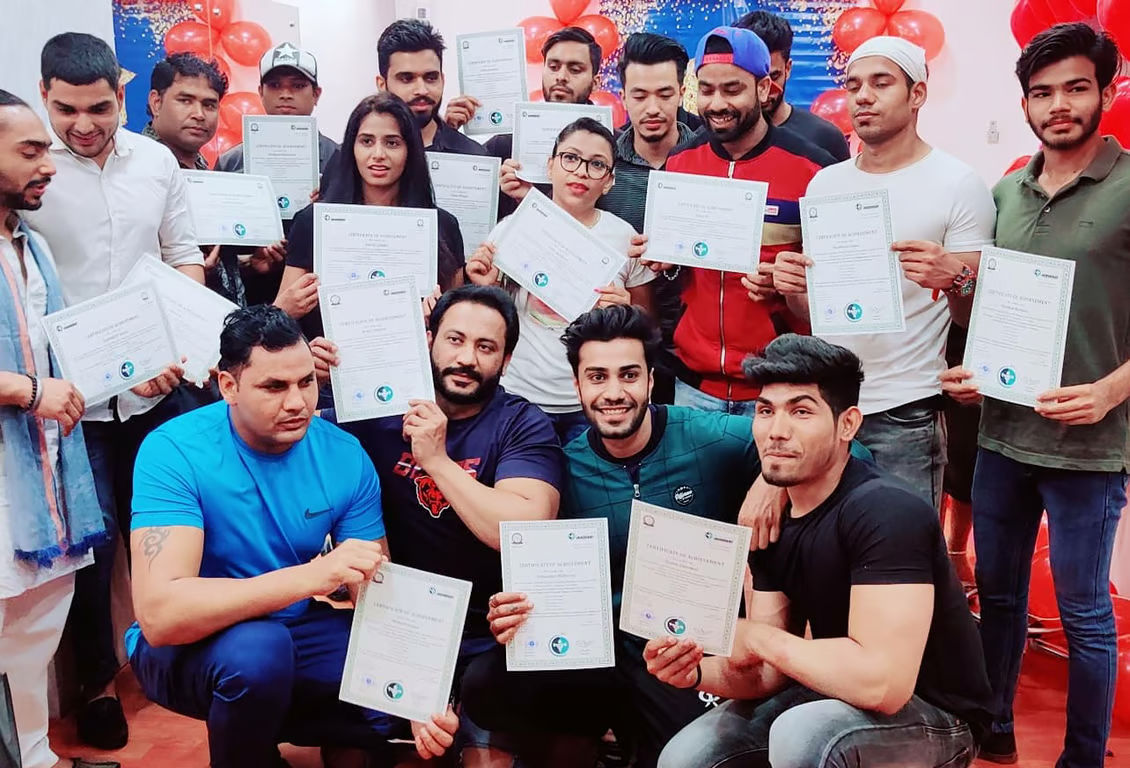 USP of DPT - DIPLOMA IN PERSONAL TRAINING
If you decide to be a part of Fitness Cravers Academy and Join our Diploma in Personal Training (DPT) course, you will have the following benefits:
Our Master Trainers are dedicated to provide you with Personal Attention during Practical Sessions so that you can present yourself as the most efficient Fitness Professionals in the market!
Career Opportunities with FCA Programs:
FCA aims at placing and has placed most of its students in different Physical Fitness & Education Sectors i.e.
Luxurious Hotels

Cruise Ships

Branded Gymnasiums

Wellness Centers

Schools and Universities

Hospitals

Social and Government Organizations

Various Teaching Institutions including FCA as a Lecturer

Home Visits (on students' request) or Freelancing Opportunities.
Placement Assistance in Different Sectors:
FCA Academy has a dedicated job portal facility for registered student of DPT – DIPLOMA IN PERSONAL TRAINING Once you become FCA Certified, it is our responsibility to keep a track on your career in relation to the jobs we can provide you with.
We have a service of providing job assistance for at least a full year but FCA stays in touch with its Certified students even after a year in order to provide them with the placements just in case they are not working!
Salary Packages Overview:
Prove yourself Efficient and Watch out a Growth in your Salary Packages!
There are Trainers working at a minimum salary of Rs.16,000/- to Rs.40,000/- per month but there is an addition of an income when "You Personally Train the Clients in Health Clubs or at Home."
Personal Trainers earn between Rs.50,000/- to Rs. 2,00,000 per month including Incentives.  Can you believe that you can earn even higher than this! Do a little research and you will see wonders in Fitness Industry in terms of salary.
Key to Salary Growth:
A Prior Experience or Additional Credentials can easily boost a higher pay.

The amount of Time and Dedication that you put into your profession plays an important role in the earnings.

Skills and Knowledge of your Profession lead to increment in salaries very Fast.

The Certification from a Recognised Institute will definitely help in increasing the income potential. Remember, there are no high-profile gyms that employ non-certified staff.
Weekday Batch:(2.5 Months)
Theory classes- 16 for 3 hours each
Practical sessions- 12 for 3 hours each
Total no. of classes- 28 (84 hours in total)
(Monday/Tuesday/Wednesday) – 10:30 am till 12:00 pm or 12:30 pm till 2:00 pm
Practical Timings- As applicable.
Weekend Batch: (3.5 Months)
Theory classes- 16 for 3 hours each
Practical sessions- 12 for 3 hours each
Total no. of classes- 28 (84 hours in total)
(Saturday & Sunday) – 10:30 am till 12:00 pm or 12:30 pm till 2:00 pm
Practical Timings- As applicable.
Note (*): Course duration will differ depending upon the nature of batch (weekday or weekend)
Examination & Certification:
Examination Procedure:
Online & Offline Theory examination (Academic & Third Party Assessment).
Practical examination (Academic & Third Party Assessment).
Marking of assignment submission and academic conduct.
Diploma in Personal Training Examination.
Certificates you will get:
 Diploma in Personal Training (DPT) by Fitness Cravers Academy.
Wish to know more about admissions and updates? Contact us!