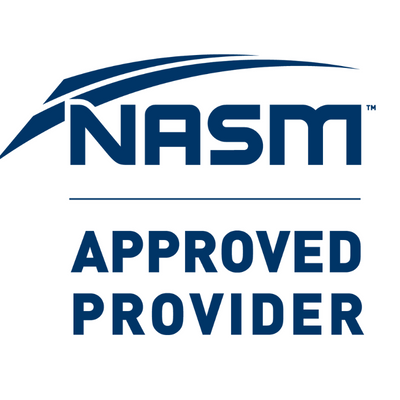 Physique and Bodybuilding Coach (NASM-PBC)
Overview of Physique & Bodybuilding Coach Program:
What You'll Learn
The all new NASM Physique and Bodybuilding Coach specialization (NASM-PBC) will deliver your next step in fitness programming knowledge to meet the needs of bodybuilding and physique clients. The curriculum takes a comprehensive approach to physique programming, covering everything from weight training, nutrition, and supplementation techniques for physique athletes and fitness enthusiasts of all levels and experiences.
The NASM-PBC takes the guesswork out of training for physique goals. Through expert insight and detailed resources, you can help clients break through all the misinformation and noise of physique training seen on social media and the internet. You'll tap into well-rounded programming that gives you the inspiration, insight, and methods to successfully reach your goals or coach clients toward their aesthetic aspirations.
Master the art and science of coaching physique and bodybuilding athletes. Become the expert your clients turn to for all their body transformation needs.
Revolutionary Digital Learning Platform
Access NASM's Physique and Bodybuilding Coach program on a high-end, interactive digital learning platform that can be used anytime, anywhere, and on any device! Take a quick tour below to get a firsthand look at the tools and features of this revolutionary platform.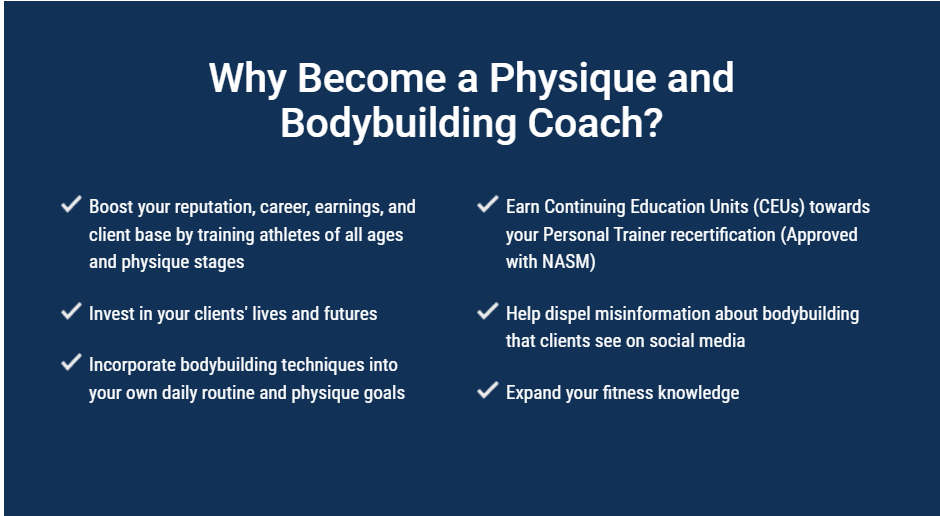 For almost four decades, the National Academy of Sports Medicine has been the gold standard for turning fitness enthusiasts into fitness leaders. Our Physique and Bodybuilding Coach specialization can help elevate today's trainers' careers and turn them into world-class fitness coaches for clients looking to achieve their personal version of physical and weightlifting success
Designed specifically for professionals (as well as enthusiasts) seeking the most current evidence-based content, strategies, and programming to optimize physique development, this course helps you transform clients into elite physique athletes while you transform your career in the process. Sign up today to begin your journey as an inspiring, knowledgeable, and goal-oriented coach your clients need.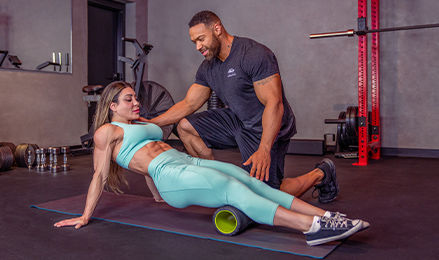 Wish to know more about admissions and updates? Contact us!
NASM PBC
Become a International Physique & BodyBuilding Coach