NASM Certification Courses/NASM Certified Personal Trainer
Let's have an overview of one of the best personal trainer certifications and nutrition courses in India that you can join. Through such international certifications, you can start building up exercise regimen and nutrition plan for the general as well as sports persons.
National Academy of Sports Medicine® (NASM®) is an organization that offers education and certification for fitness trainers, coaches, nutritionists, medical professionals etc. It has an approved provider in India i.e. Fitness Cravers Academy in Delhi. Individuals without any science background and who have a passion for fitness can join NASM short duration courses at Fitness Cravers Academy (FCA), Delhi, India with a flexibility of both online and offline options.
Accreditation and Recognition
NASM is known to provide many programs such as Certification in Personal Training (CPT), Masters in Personal Training (MPT), Certification in Sports Nutrition (CSN), Certification in Corrective Exercise Techniques (CES) etc. For over 35 years, it has earned its reputation as the gold standard in fitness education & is accepted in more than 150+ countries worldwide which is a greater number as compared to other International certification programs.
The NASM-CPT personal training certification owns accreditation by the National Commission for Certifying Agencies (NCCA). NCCA is a nationally recognized third party agency that accredits certification programs which are able to meet and comply with its standards.
How to become NASM Certified Personal Trainer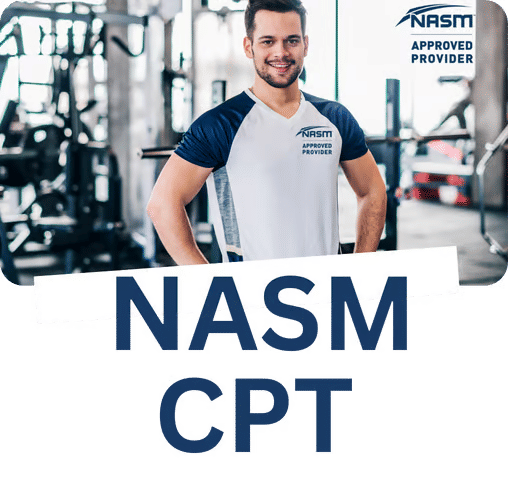 By joining CPT (Certified Personal Trainer) program, you'll learn the following:
knowledge of the body's muscle and skeletal structure
encouraging people to make their fitness goals a reality
assessing and building custom training programs
Performing exercises without any injury
Role of diet and exercise to transform people's lives
CPT – Overview
The Scientific Rationale for Integrated Training
Basic Exercise Science
The Cardio respiratory System
Exercise Metabolism and Bioenergetics
Human Movement Science
Fitness Assessment
Flexibility Training Concepts
Cardio respiratory Fitness Training
Core Training Concepts
Balance Training Concepts
Plyometric (Reactive) Training Concepts
Speed, Agility, and Quickness Training
Resistance Training Concepts
Integrated Program Design and the Optimum Performance Training™ (OPT™) Model
Introduction to Exercise Modalities
Chronic Health Conditions and Physical or Functional Limitations
Nutrition
Supplementation
Lifestyle Modification and Behavioural Coaching
Developing a Successful Personal Training Business
The cost of NASM Certification in Personal Training (self study) Program is very nominal i.e INR 38,000 all inclusive for online course and INR 63,000 all inclusive for offline program at Fitness Cravers Academy and this is including examination fee.
Once you pass the exam, you are qualified to offer your fitness training services. Maintaining your certification with continued education is a requirement of it just like the other International programs. Continuing Education Units (CEUs) will add additional costs throughout your career.
Career Opportunities
Get associated with different branded health clubs, gyms, wellness centers, luxurious hotels, hospitals, schools, universities, Cruise ships, Social and government organizations, various teaching institutions etc.
Work as an Online Personal Trainer
Apply as a Fitness lecturer
Introduce your own health club or gym
Home visits or Freelancing opportunities
Examination
There are certain key points that you must remember while preparing for the examination:
Recertification is every 2 years
Recertification CEUs is of 20 hours
Recertification Cost is 99$
NASM-CPT kit
Complete Online/Offline Course Material
High End Audio and Video
Practical or Exercise Lab
Practice Exams and Section Quizzes
Online Student Forum
Online Certification Exam
100% Placement Assistance
Unlimited Educational Support with on-staff professors
Honestly! It depends on you and on the program you're taking. When you start, you have six months to finish. You can join the 'fast track' program and complete the Online NASM Certified Personal Trainer Course program in four weeks. CPT Offline course at Fitness Cravers Academy will take about five months.
You must visit and feel the difference at Fitness Cravers Academy, Saket Delhi. Have a look at the infrastructure and the quality of education being provided. Book your demo class to learn more!